Sylvia Davies
CBT Therapist and Consultant EMDR Therapist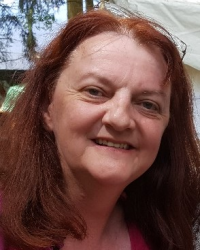 I find that in today's stressful society there are many things that people find difficult.   Talking to someone like myself (or others in the team at iRise) can help someone understand their difficulties.  I use evidence-based therapies to help with this.
I work with short term and long-term clients on an individual basis only via SKYPE or other video methods.
I work with all mental health problems but have a particular interest in Post-traumatic Stress Disorder as I find that many clients might present with something where trauma is the underlying theme.
Aside from this I enjoy music, cycling, carnivorous plants, and have three cats and a dog!
I am an CBT and EMDR Psychotherapist and I have over twenty years' experience working in various mental health services. I started working initially as a Registered Mental Health Nurse (RMN) and then moved on to train in CBT and EMDR. I am a BABCP accredited CBT therapist and accredited supervisor. I am also an accredited consultant therapist with EMDR UK and Ireland.   I have also just finished my Doctoral training in Counselling Psychology and am awaiting certification and HCPC accreditation.
My varied work and training in mental health allows me to adapt my therapy to match each individual client.